ICE on the Windscreen
October 19, 2014 by Steve Harvey
As many of you are no doubt aware, as of October 1st 2014 we are no longer required to display a tax disc on our vehicles. So what are we going to do with that area in the lower left corner of the windscreen where we have all become accustomed with seeing something? Why not display something useful… that may even save your life?!
I have created an ICE (In Case of Emergency) template for you to place contact info on for the emergency services to use in case of an accident.
Click the picture to download the template (it is a .pdf – most computers have a .pdf reader installed, but just in case, you can download one here), print it out, fill in the details, fold it into the size and shape of a tax disc and then put it in the tax disc holder – where your tax disc used to be.
Don't forget to print one out for friends and other family members too, or better still share the link to this page, so they can do it themselves!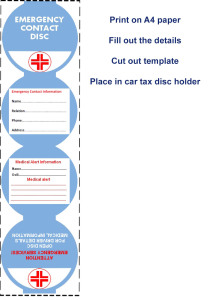 Category: Local Info, News
---
Comments Off

on ICE on the Windscreen
Sorry, comments are closed.